In an effort to educate the public on general weather topics and about severe weather and to demonstrate our web design and programming skills, we have created multiple sites that will answer most, if not all of your weather questions. If you can't find the answer to your question on our site, you can E-mail our professional meteorologists for an accurate, complete and prompt answer.

http://www.everythingweather.com.
Everything Weather will provide you with current weather information, links and information about general weather conditions.

http://www.theweathergallery.com.
Weather Gallery contains pictures of different weather phenomenon from sunsets to tornadoes.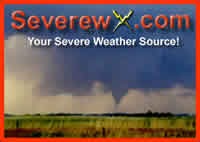 Severewx provides you with information specifically about severe weather.
Other weather related sites that we have designed include Stormchase.us and WeatherPresentations.com.
You can easily move between all sites, so all you need to do is choose what type of weather you wish to start with.